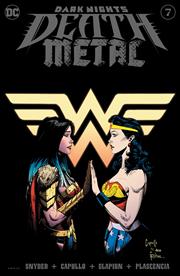 DARK NIGHTS DEATH METAL #7 (OF 7)
(W) Scott Snyder (A/CA) Greg Capullo, Jonathan Glapion
5.99
The Darkest Knight is on the verge of ending this concert once and for all, but Wonder Woman stands ready to shred the Darkest Knight, solo! Two epilogues that lead directly into the next phase of the DC Universe and no fan will want to miss that!
DREAMING WAKING HOURS #6 (MR)
(W) G. Willow Wilson (A) Javier Rodriguez
3.99
Sorceress Heather After finds herself plunged into a waking nightmare! The cruel creature known as Puck is stalking her, and no being she could possibly summon can protect her from his wrath!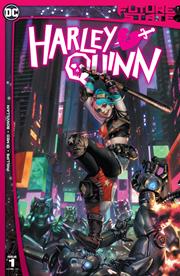 FUTURE STATE HARLEY QUINN #1 (OF 2)
(W) Stephanie Phillips (A) Simone Di Meo
3.99/4.99 cardstock variant
The Magistrate has imprisoned Harley Quinn! He uses the Scarecrow to tap into Harley's knowledge of Gotham's villains and the Black Mask Gang for his own dark purposes. They think they have Harley Quinn defeated and her spirit broken, but they are mistaken and Harley will have her revenge.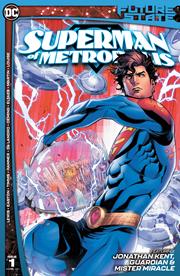 FUTURE STATE SUPERMAN OF METROPOLIS #1 (OF 2)
(W) Sean Lewis - Brandon Easton (A) John Timms - Cully Hamner - Valentine De Landro
5.99/6.99 cardstock variant
Jonathan Kent is now Superman! When a new Brainiac attacks, Jon takes drastic measures which result in the Bottle City of Metropolis, but Supergirl is not happy with that! Meanwhile inside the bottle all sorts of things are happening. A story that continues in Superman: Worlds of War #1.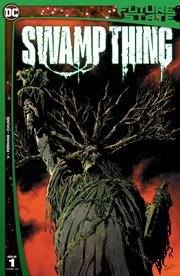 FUTURE STATE SWAMP THING #1 (OF 2)
(W) Ram V (A/CA) Mike Perkins
3.99/4.99 cardstock variant
After a terrible war humanity lies in hiding, forever in the shadow of the green god Swamp Thing who now rules the planet. When the new avatar of the Green uncovers a stray human, a rebellion is revealed! If it's war humanity wants, it will be at their doorstep and Swamp Thing will never be the same!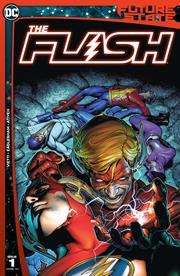 FUTURE STATE THE FLASH #1 (OF 2)
(W) Brandon Vietti (A) Dale Eaglesham
3.99/4.99 cardstock cover
With no powers, backup or other choice, Barry Allen and other former Flashes face the deadliest threat they've ever seen - Wally West possessed by an evil trapped in the Speed Force. Using his greatest foes' weapons to save Wally, how much will he sacrifice to save the former Kid Flash?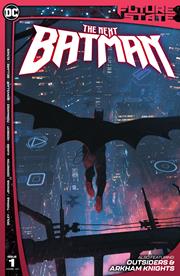 FUTURE STATE THE NEXT BATMAN #1 (OF 4)
(W) John Ridley - Brandon Thomas - Paul Jenkins (A) Nick Derington - Sumit Kumar - Jackson Herbert
7.99/8.99 cardstock variant
Following A-Day tragedy,Gotham's mayor allowed a the Magistrate, private law enforcement group,to take over policing so-called mask crime and that has given rise to a new, mysterious Dark Knight! Also a new tale of the Outsiders !Plus, ride with the Arkham Knights on their quest for freedom.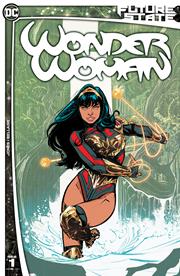 FUTURE STATE WONDER WOMAN #1 (OF 2)
(W/A/CA) Joelle Jones
3.99/4.99 cardstock variant
In the absence of Diana, Yara Flor has risen out of obscurity to protect Man's World from the magic that lies within it. Along with her trusty steed, she journeys to the Underworld to rescue one of her Themysciran sisters from the grasp of Hades.